Virtual Office with Address
New York Virtual Office is a simple, $19/month solution to an expensive, annoying problem. The problem? Your business mail has to go somewhere.
But maintaining a separate office isn't affordable for most small businesses. And slapping your home address and phone number on everything from public filings to business cards isn't a great alternative.
So what can you do?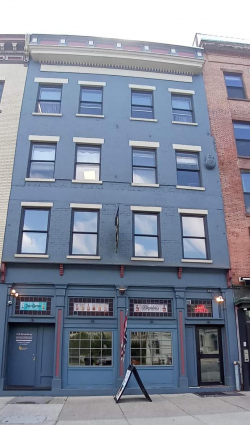 The building we own in Albany, NY.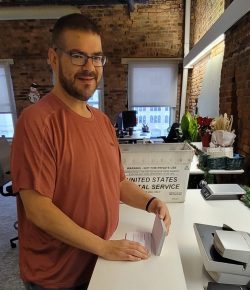 Easy. Save some cash, protect your personal information, and sign up for one of our New York mail or virtual office options.
We own our own building.
So, when you use our services, our Business Address is your address, too.
Our New York Virtual Office and Mail Options
Our virtual office and mail options. Just the choose the best one for you:
FREE (with
Registered
Agent Service)
Mail Forwarding
Base Package
Mail Forwarding
Premium
Virtual Office
NY Address with Unique Suite Number
Address Only
x
x
x
Unlimited Virtual Storage*
x
x
x
x
Safe Document Shredding
x
x
x
x
Junk Mail Filtering
x
x
x
x
Instant Digital Access to Mail
x
x
x
x
Phone Service
60-Day Free Trial
60-Day Free Trial
60-Day Free Trial
x
Office Lease
x
Document Limit
10
+10
+25
Unlimited
Price
FREE
$49/year
$99/year
$19/month
*physical documents shredded after 60 days
Registered Agent Service includes all your state and legal mail, plus 10 free document scans per year of regular business mail.
Mail Forwarding document limits are in addition to your 10 free documents with RA Service (so that's 20 documents with our Base Package and 35 documents with Premium).
---
Services Exclusive to Virtual Office:
Phone Service gives you a unique New York phone number with voicemail and SMS messaging included. You'll be able to access this phone number via web browser, as well as with our phone app, which is compatible with both iOS and Android.
Month-to-Month Office Lease
With Virtual Office, you get an address with a unique suite number, PLUS a lease for your business space. What's so important about an office lease? In many cases, having an actual lease makes it easier to file paperwork on behalf of your businesses.
When you hire us for Virtual Office Service, you also get access to our physical office space. Our meeting rooms here in Albany are available on a first-come-first-serve basis.
Benefits of a New York Virtual Office
Still not sure if you need virtual office features for your New York business? Here are a few points to consider. Our virtual office and mail is:
Affordable
Spending hundreds or thousands on office space a month doesn't make sense if all you really need is your own business address, and maybe a New York phone number or lease agreement. Our New York Virtual Mail packages start at just $49/year.
Stable
Rents have been rising like crazy. Many people can't stay in one place for long. And every time you move, it means a new address. Updating your website. Ordering new letterhead and business cards. Notifying the Secretary of State. Reaching out to clients. But we own our building, and we're here to stay. With our mail options, you can move all you want and maintain the same business address.
Convenient & Secure
Not always there to collect the mail? With our Open & Scan options, you can view your documents from anywhere right away on your own personal device. And with our Privacy options, you always know what's coming and when.
Professional
No P.O. Boxes, fly-by-night addresses, or residential neighborhoods. All our packages come with an Albany address and a unique suite number located in a nice commercial building we own.
Private
With a business address, you can keep your personal address…well, personal. No need for the world to know where you live just because you started a business.
---
Frequently Asked Questions
Which NY Virtual Office package should I choose?
Which virtual office or mail package you choose depends on a couple things: how much mail you expect to receive, whether you want us to open your mail or not, and if you need a phone number and office lease. Our options allow you to mix and match based on your preferences and your budget.
And if you need it all? With Virtual Office, we'll open and scan all your documents (excluding junk), and give you a business phone number and office lease agreement.
Do these options include package forwarding?
No, our mail options do not include package forwarding.
How does the Virtual Office phone number work?
You get a New York phone number, unlimited calls and SMS texts, and voicemail. We use a VoIP (internet-based) service. It's like having another phone with no need to buy another device. You can access the virtual phone through any browser. Calls can easily be forwarded to any US number.
How does the office lease agreement work?
When you sign up for one of our Virtual Office package options, you receive a New York office lease agreement. Having an office lease in the state can help establish your business in New York without tying you up in an expensive contract.